STAROBINSKY/STARR family
According to Alexander Bider's A Dictionary of Jewish Surnames from the Russian Empire, the name STAROBINSKII was used in Gomel in the Chernigov region of Belorussia. (See Chernigov archive and mailing list.) It indicates an origin from the townlet of Starobin near Slutsk in Belorussia (80 miles south of Pinsk). The name Starobin itself means One Hundred Rabbis. See Slutzk and Vicinity Memorial Book which includes Starobin. Nevertheless, there are still a few Jews living in Starobin.
---
Selig Bodyas STAROBINSKY
Selig means "comfort". Selig owned Hotel Zelig. His first wife Esther's son-in-law Yaacov KORBUTCHKY had two sons including Zelig STARR who survived the Holocaust a shattered man.
Selig's second wife Shayna Etel and her two sons (Moshe Bodya STAROBINSKY and Benjamin STAROBINSKY) inherited the hotel. Moshe Bodya STAROBINSKY was a Mohel.
Selig learned Russian from postmaster. Selig's father disapproved of him learning Russian, but afterwards as the only one in the ghetto (300 jews) who knew Russian he was able to make a living from that, translating official documents. (Everyone knew Ukrainian and Yiddish.)
Selig owned a hardware store and a hotel.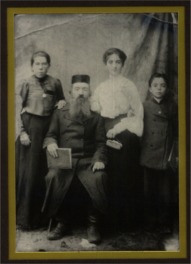 Benjamin STAROBINSKY
Benjamin STAROBINKSY (seated in the photo taken to the right taken around 1901 with his daughter and grandchildren) married Merchan (Miriam) was daughter of Rabbi David of Pinsk.
David STAROBINKSY
Sarah STAROBINSKY ?
David STAROBINSKY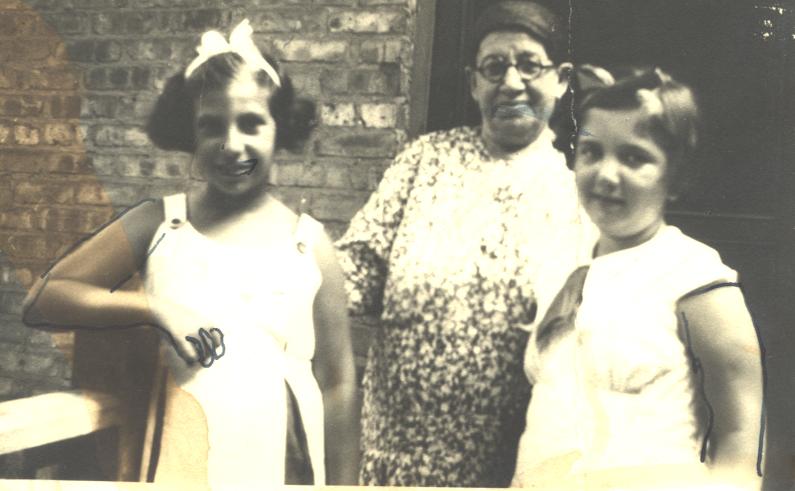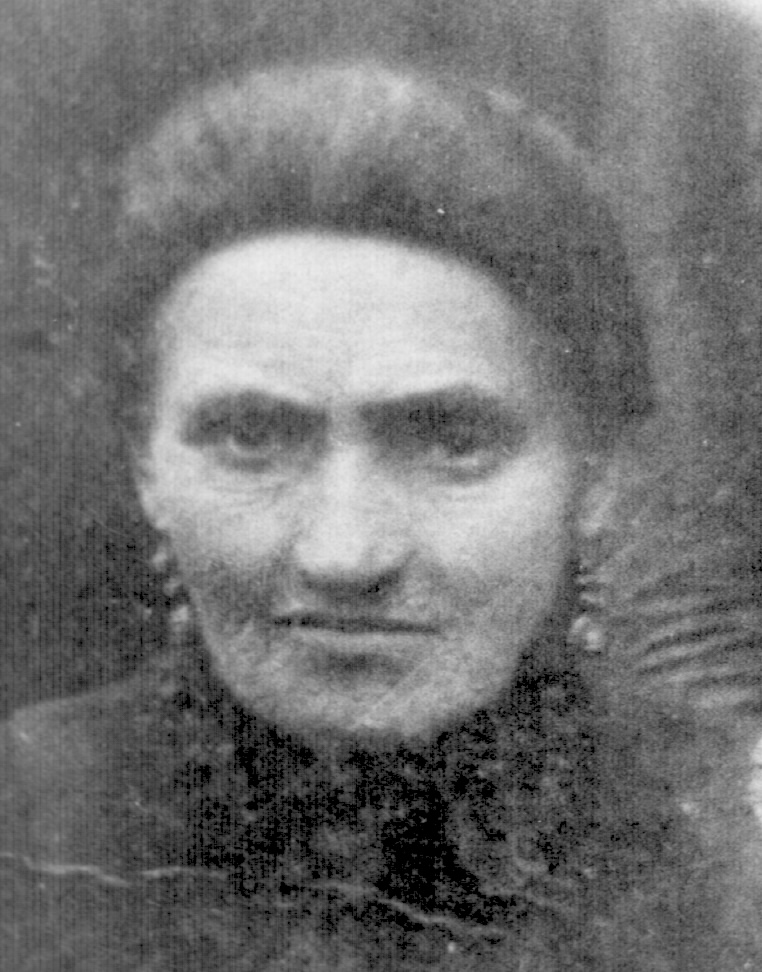 Benjamin's son David STAROBINSKY (died 1899 Poland) learned Russian from father. David married Gute Tova (Gertrude) FELDMAN. ( Born 1863, died 5 July 1949, buried Yanover Cemetery, Waldheim, Illinois, Gate 125, Lot 317, Row 3, Grave 5, Id no. 42521.) Gute Tova immigrated to the United States with her son Rabbi Zelig Starr. Her son's name was Anglicized to Selig, and Gute Tova's name was Anglicized to Gertrude. In the 1930 census,Gertrude STAR was listed as widowed and living with her daughter Fagel and her family in Chicago, Illinois.

David STAROBINSKY and Gute Tova FELDMAN had nine children:
Reuben STAROBINSKY, married Tseereel. Owned 2 stores. Pretended to be Polish but was recognized and killed by Germans.

Miriam STAROBINSKY went to Tel Aviv (d. 1981) married MULCHADSKI.

daughter
Yael MULCHADSKI
Tzilla (Gilla) MULCHADSKI married Haïm RAZ. (Raney 1960, Limor 1963, Tal 1979)



Fagel (Fanny) STAROBINSKY (d. 14 March 1948). Married Meyer DAVIS (b. 17 Sep. 1880 Russia or Belarus, d. 14 November 1948). Meyer was born Meyer ASCHKENASY. He immigrated to the United States (11 June 1909 Baltimore, Maryland) with his wife and two sons. In their immigration records Russia as given as their birthplace and the birthplace of their parents. He was processed along with a possible younger brother named "Berl ASCHKENASY". They listed Chicago, Illinois as their planned destination and were traveling together. DAVIS was someone who took him in and gave him a place to live, possibly next door, and Meyer took the name DAVIS as an American name. On Meyer's naturalization certificate (1 May 1922), he listed his name as "Meyer ASHKENAZ [DAVIS]" with DAVIS in brackets. Two daughters were subsequently born in Illinois. Meyer Davis lists his occupation in the 1920 census as "Sausage" and industry as "Store". Tongue was listed as Yiddish.

Dave DAVIS (d. 8 Apr. 1962) married Catherine BROWN who was Catholic. Dave was a doctor and was Cook County Coroner until his death. They lived at one point in Evergreen Park, near Chicago, Illinois. After Dave's death, Catherine remarried Robert SCOTT.

James (Jim) Thomas DAVIS (b. 18 Sep. 1944 East St. Louis, Illinois, d. late 2000). There are some records that say he was born in 1942 (Social Security, etc) because he falsified his age to join the Baker's union for a childhood job.
Jim married (Galesburg, Illinois) Virginia SHELLY (b. around 1945, d. 6 Aug. 1995 bicycle trail accident). They had a daughter and were later divorced.

Christine (Tina) V. DAVIS (b. around 1971). Her mother Virginia remarried James TILDEN (b. around 1950, d. 3 Oct. 2012 lung cancer) who adopted Christine. Christine married Michael C. WITT. They live in Bolingbrook, Illinois. Children: Ashley WITT and Ryan WITT.

Jim remarried and divorced Joann STOHLER. They raised their children in Barrington, Illinois.

Christopher DAVIS cdavisrosco@gmail.com (b. 15 May 1980 Arlington Heights, Illinois). He has lived in New Orleans, Louisiana since 1998. Christopher married Marion WHITE. No children. Thanks to Christopher for information about this branch of the family tree. We were able to place him correctly in the family tree by use of the genetic testing service 23andMe.

Melinda DAVIS mskolarus@carolina.rr.com married David SKOLARUS.

Jaime SKOLARUS
Jacob SKOLARUS

Joseph ("Chick") DAVIS (Nov 195?)
Mary DAVIS, married Izzy HORWITZ. Adopted Putchy HORWITZ and Howie HORWITZ (b. around 1963).
Anne DAVIS (b. 1916 Illinois) married Joseph (Morrie) MORRIS.

Ronald MORRIS
Elaine MORRIS (d.) married Lorenz KAPLAN. Children: Murray KAPLAN, Marynan KAPLAN and Craig KAPLAN.



Rifka STAROBINSKY born before 1899. Married Itzhak Napcha who died in Russian army during World War I fighting Germans. (Rifka is standing to the right of her grandfather in the photo above taken around 1901.)

David NAPCHA (b. 1914) went to Israel. Married Miriam.

Nitza NAPCHA b. 1940 married Avram SCHITZ banker, Tel Aviv.

Tzor SCHITZ, b. 1969, lawyer working for Israel tax office. Married (2000) to American. Lives in Modayin, Israel. Two children.
Ohad SCHITZ, b. 1980, accountant

Rifka NAPCHA married Mordicai (Motty) PELED judge, Tel Aviv.

Asaf PELED (b. 1981)
Anon PELED (b. 1979)
daughter (b. 1991?)

Naava NAPCHA married Ariel GOTTESMAN chemical trader, Tel Aviv.

Maya GOTTESMAN (b. 1981)
Yaer GOTTESMAN (b. 1984)

Rifka remarried GOLDMAN 1913 and later had a son?? and a daughter??. (They are listed in the Yiskor book for Yanow.)

Badra STAROBINSKY died young in Europe of natural causes.

Rabbi Selig STARR (b. 15 June 1893 Yanow, Poland, d. 2 Nov 1989 = 4 cheshvan 5750 Chicago). (In the photo above taken around 1901, Selig is eight years old and is standing on the right next to his sister Rifka, grandfather Benjamin, and aunt Sarah.)
Rabbi Selig STARR married Pearl (Penina) COHEN (Born 15 December 1915. Died 1970).
Selig was a graduate of the University of Chicago.
Senior Rabbi at Hebrew Theological College (Skokie, Illinois).
Rosh Yeshiva Darchai Noam (Jerusalem).

Leah STAROBINSKY. (??)

Rachel STAROBINSKY. Married KALMAN. Philadelphia (??).

Sarah STAROBINSKY (d. 1930). Married Moshe Baruch. No children. Purchased a shul in Philadelphia.
---


Daniel E. LOEB, eMail: publisher@pjvoice.com