STARR family
Isaac Labe STAROBINSKY (b. 1880 Yanow, d. 6 February 1934 Chicago) moved to Chicago 1934.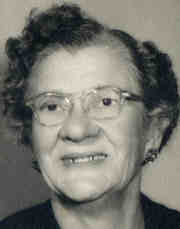 Married (26 or 27 February 1907 New York) to Esther BARB (b. 1881 near Odessa, d. 2 September 1973 San Diego).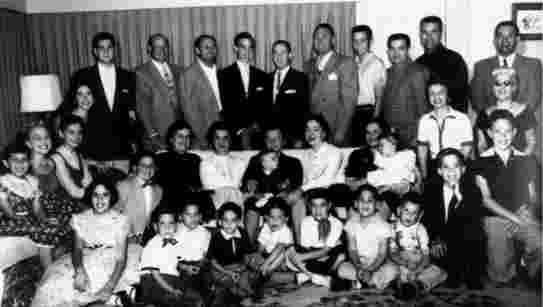 They had eight children.
Photo to right taken in San Diego in 1954:
back row (right to left): David STARR, Bill STARR, George STARR, Bill's son Norman, Sidney ZOLOT (Mary's husband), Betty's husband David SUGERMAN, Betty's son Jay, Beatrice's husband Oscar SOKOL, Bertha's husband Fred Leeds, and Bertha's son-in-law Matthew STRAUSS,
(moving forward from the the back row): Bertha's daughter Iris, Bertha's daughter Andrea, Bill's wife Bertha, Bill's daughter Marsha
(middle row from right to left): David's wife Rozelle, George's wife Geraldine, Beatrice with her daughter Diane, Betty, matriarch Esther STARR, with George's son Brian, Mary, Bertha, Bertha's son Gary
(front row from right to left): Bill's son Philip, Betty's son Richard, Beatrice's son Bruce, David's son Michael, Betty's daughter Carol, Bill's son Harvey, George's son Jeffrey, George's son Craig, Mary's son Lawrence, and David's daughter Leslie.
Photo to right:
From left to right. Bertha STARR, Betty STARR, William STARR, Mary STARR, and George STARR.
Mary STARR b. 19 July 1908 New York. Married Sidney ZOLOT (b. 7 October 1910, d. 29 January 1983).

Lawrence STARR married 24 May 1950 Julia.



David STARR (b. 24 September 1909 New York, d. November 1996) married Rozelle ZIMMERMAN. Divorced.

William (Isadore Velvel) (Bill) STARR (b. 16 February 1911 New York, d. 1991 San Diego). Lived in Chicago. Moved 1937 to San Diego to play baseball for the San Diego Padres minor league team. Later bought the team and ran it for a few years until 1956. Ted WILLIAMS played for him. According to Leslie O'CONNOR, "Bill STARR was the keenest mind in baseball. Nobody was a better judge of playing talent and he was unsurpassed as a negotiator. When I say he was the smartest man in baseball, I don't exclude anybody. I rate him over George WEISS of the Yankees, over Frank LANE of the Cardinals, over all of 'em." He was a pioneer and an innovator. In 1948, he opened the doors to black players in the Coast League by acquiring John RITCHEY, the first black player in that league's history. He wanted to build a new baseball park, and several times bought large pieces of land and it didn't work out so he sold it. He made a lot of money each time he sold the land and then realized he should go into real estate. (See article on the San Diego History website.) Bill wrote (1989) Clearing the Bases: Baseball Then & Now.
Bill married (1937) Bertha SCHUB (b. 12 July 1917 Chicago, d. 12 December 2000 San Diego) daughter of Gertrude FRADKIN (b. 1891, d. 1982) and Samuel SCHUB (b. 1891, d. 1937) son of Dvayra (Dora) SCHUB (d. 1925) and Rubin (Roven) SCHUB (b. 1855, d. 1937) son of Brunne and Israel SCHUB. Divorced. Bertha was raised in Chicago, graduated from Marshall High School and Chicago Institute of Music. She worked during the depression as a secretary, once for a manufacturer of bulletproof vests. Bertha was a tireless participant in community activities. She did volunteer work for Grossmont Hospital as well as with the Women's Auxiliary to write scripts and make costumes for their fund raising events. Later she made and repaired costumes for the Old Globe Theatre. At Salk Institute, she helped with fund raising events by preparing mailings, making phone calls or holding elected offices. Bertha was also an avid watercolorist, traveling many places overseas with workshop groups sponsored most notably by Dong Kingman. She had lifetime memberships with Temple Beth Israel, Hebrew Home For The Aged, Women's Auxiliary, BRANDEIS National Women's Committee, Salk Institute Women's Auxiliary, Grossmont Hospital Auxiliary and Globe Theatre. During her last years, she managed real estate investments and spent time with her 4 children and 12 grandchildren.
Bill remarried Shirley (d. 1989). No children.
Bill remarried Francy. No children.
Bill and Bertha had four children:

Norman Roy STARR normanstarr@sbcglobal.net dovick@netvision.net.il married Celia Marie CERASOLI.

Lisa STARR (b. 18 November 1959), independent biotech illustrator and consultant.

Madeleine STARR AGUILAR (b. 29 August 1994)

Lisa STARR married to David GOODIN (b. 29 May 1955), Assoc. Prof. in Biophysical Chemistry at The Scripps Research Institute in La Jolla, CA. Lisa and David live in San Diego, CA. Email available to family members on request.

Renee Claire GOODIN (b. 21 August 2000)

Diana STARR dm_starr at yahoo.com (b. 25 April 1962). Lives in Mountain View, CA and manages software engineer training at Silicon Graphics.

Norman remarried Ellie (no children).
Norman remarried Dorothy Anne McCAULEY (b. 27 July 1943 Texas) who had one daughter from a previous marriage (Stephanie Anne Castle (b. 14 January, 1966 - San Diego, California), Preschool teacher in San Diego.

Matthew Adam STARR (b. 14 January 1971 - San Diego, California) investment banker in London, England. Married Elisa ECHEVARRIA-ALCOVER.

Ethan Joseph STARR (b. 19 March 2003)
Amalia Maria STARR (b. 26 August 2004)
Milena Margaret STARR (b. 7 May 2007 London)

Norman remarried (29 Aug. 2004) Sabine EDLINGER (b. Vienna, Austria). Norman lives in San Diego and Vienna.
Norman STARR remarried (2 Feb. 1974) Christina (b. 4 Mar. 1945)

Daniel Cantwell STARR (b. 10 Aug. 1976) daniel@pabulumdesign.com is a Senior Environmental Designer in New York City. Daniel is engaged to Kelly P. McANNANEY, they plan to be married in Fall of 2006.
Vanessa Anne STARR (b. 18 Jan. 1979) lives in San Diego, speaks Japanese and works as a production designer.

Phillip STARR
Marsha STARR SanDIegoStarr@cox.net, married Abe GREENBERG, divorced. Martha is author of Down The Aisle In San Diego, Down The Aisle In Orange County, Down The Aisle In The San Fernando Valley, Down The Aisle In Denver, and Down The Aisle In Phoenix

Melissa GREENBERG (b. 6 September 1968) mgreenberg@abhrealty.net, restaurateur in New York, and commercial real estate agent to be married (9 Sep. 2006 New York) to Alfred NICOLETTI.
Joshua GREENBERG (b. 29 December 1970) mauijosh@hotmail.com, a teaching artist on Maui.
Peter GREENBERG (b. 4 April 1974), music executive in Seattle

Harvey STARR, married Marie, separated



Bertha STARR (b. 10 February 1913 New York) married 2 April 1935 to Fredrick Samuel Leeds (29 December 1910 to 1986 San Diego)

Iris Lynn Leeds (22 August 1935) married Matthew STRAUSS

Steven Mark STRAUSS (21 January 1957) married Lise..

Naomi STRAUSS (b. San Diego)
William STRAUSS (b. San Diego)

Tamera Deanna STRAUSS (April 1959) married Edward GOLDBERG. Divorced. Remarried Rick ALTER.

Brandon Craig ALTER (b. 15 February 1985)
Grant Steven ALTER (b. 10 June 1989)

Stephanie STRAUSS (March 1963) married Mark WEISS (13 March 1987).

Cameron Louis WEISS (b. 29 September 1985)
Daniel Frederick WEISS (b. 13 March 1987)
Alexandra WEISS

Andrea Gail STRAUSS (27 January 1940) married Jerry Allen ROSS. Separated.

Tracey Suzanne ROSS (b. 19 July 1961)
Michael ROSS (b. 13 July 1962)
Ricky ROSS (b. 18 July 1966)

Gary LEEDS 19 May 1945 married Julie (son Adam Samuel LEEDS 8 July 1968).
Remarried Nite (children Jordan LEEDS 4 February 1975 and Marni LEEDS)

George STARR (b. 21 November 1914 New York, d. 16 December 1969 San Diego), married Geraldine MISHLOVE

Craig STARR (b. 2 September 1949 San Diego) source Oct. 1994 of some of the information on these web pages. Married 10 August 1980 Sandra Louise SCHEETZ.

Joshua STARR (b. 15 January 1983 Oakland, CA) joshua.dstarr@gmail.com
Rachel STARR (b. 21 December 1989 Oakland, CA)

Jeffrey STARR (b. August 15, 1950 San Diego) married (12-4-1985) Rai Marie THOMAS
Brian STARR (b. 4 April 1953) bstarr_pom@msn.com married (26 May 1984) married Margaret (Margie) NIEF Margie.Starr@sheraton.com, director of group sales, Sheraton Grand Sacramento, California.

Betty (Rebecca, Rifka) STARR (b. 23 May 1917 New York, d. 1 March 1982 San Diego). Married (26 February 1938) to David SUGERMAN (b. 23 June 1910 Chicago, d. 11 January 1994 San Diego)

Jay Lawrence SUGERMAN b. 11 June 1941 Chicago. Married 25 June 1966 Ruth Etta SILAS LA.



Benjamin STARR, b. 15 March 1920 Chicago, d. 24 November 1921 Chicago. Buried in family plot in Chicago.

Beatrice STARR, b. 15 September 1923 Chicago, married 25 March 1949 Oscar SOKOL (b. 18 November 1910, d. 1991 San Diego)

Bruce Steven SOKOL (b. 25 August 1950 LA) Bsokol at retax.com married Hanni (Barbara Abromowitz) b. 24 December 1950. They live in Monsey, New York.

Hedva Miriam SOKOL (b. 1 November 1978) m. (New York) Chaim KATZ. Children: Sara KATZ (b. July 1999), Akiva KATZ (twin b. 24 July 2000), and Ahron KATZ (twin b. 24 July 2000).
Elka Rachel SOKOL (b. 16 July 1980) m. (New York) Daniel ROTH. Son: Raphael ROTH (b. New York).
David Yehuda SOKOL, 19 September 1982
Yonoson Moishe SOKOL, 23 November 1987
Yaacov Yosef SOKOL, 23 February 1987

Diane Ilene SOKOL (b. 21 June 1952 Long Beach) DIF678 at aol.com. Married Elliot FEUERSTEIN b. 21 March 1948. They live in San Diego.

Brett Samuel FEUERSTEIN (Yitzak Shapsi), 24 May 1981
Michael David FEUERSTEIN (Menachem Mendel), 10 December 1983
Sign or view my Guestbook

Daniel E. LOEB, eMail: publisher@pjvoice.com