Rabbi Abraham BENSIMON
Rabbi Abraham BENSIMHON married Esther Malka. They lived a long time, loved and respected each other very much, forming a united couple (they never called each other by their name; she called him "A A'zizi" and he called her "Seniora"). They had
seven children. The family most likely traces its earliest roots from Sijilmasa.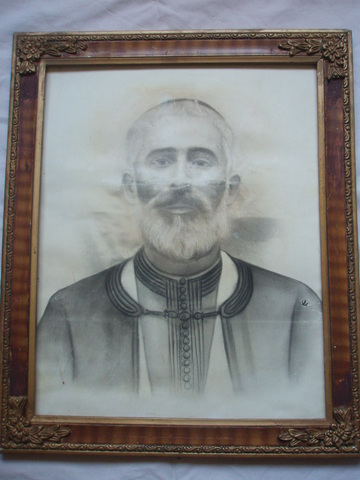 Haim BENSIMON married Rivka TOLEDANO

Salomon BENSIMON married Esther LAHMY in Paris.

Maurice BENSIMON. 2 children
Angele BENSIMON. 2 children
Biria BENSIMON. 2 children.
Dody BENSIMON. 2 children
Michel BENSIMON. 3 children
Shalva BENSIMON. 2 children.
Richard BENSIMON. 1 child

Simha BENSIMON first married GOZLAN

Rachel GOZLAN. 3 children
Neli GOZLAN. 1 child

Simha BENSIMON remarried Samuel BENBGUI

Jean Claude BENBGUI. 4 children.
Nathan BENBGUI
Jannette BENBGUI. 3 children
Lisette BENBGUI. 2 children.

Sol BENSIMON married Joseph MIMRAN

Baruch MIMRAN. 3 children
Denise MIMRAN. 6 children
Michel MIMRAN. 1 child
Jannette MIMRAN. 3 children.
Hava MIMRAN. 3 children

Odile (Khokha) BENSIMON married Prosper OHAYON

Samy OHAYON. 3 children
Ari OHAYON
Annie OHAYON. 3 children

Esther BENSIMON married Jo MYARA
Abraham BENSIMON married Denise TOLEDANO

Gilbert BENSIMON. 3 children
Haim BENSIMON.
Ruth BENSIMON 2 children
Carol BENSIMON. 1 child

Charles BENSIMON married Janine EDERY

Patrick BENSIMON married Liat. 2 children.
Karen BENSIMON married Amit. 3 children.
Joana BENSIMON married Eyal. 1 child.

Denise BENSIMON married Moshe KEREN (d.).
Josue BENSIMON married Ruth AZERAD

Eran BENSIMON. 1 child
Nathalie BENSIMON. 2 children
Beni BENSIMON
Haim BENSIMON



Hassiba BENSIMON first married DEHRY.

Meir DERHY (d.) married Rachel WANOUNOU

Yedi DERHY. 3 children
Joseph DERHY. 5 children
Raphael DERHY. 3 children
Jacques DERHY. Children.
Viviane DERHY. 2 children.
Renee DERHY. 3 children.
Albert DERHY. 1 child

Hassiba BENSIMON remarried Mordecchai BERDUGO and had 8 more children.

Freha BENSIMON married Shmuel FEDIDA. Family made aliyah to Israel during the 1950s.

Gracia FEDIDA. 3 children.
Zohra FEDIDA. 7 children.
Maklouf FEDIDA. 3 children.



Leah BENSIMON married Salomon BENAZRA.

Nissim BENAZRA
Zohar BENAZRA
Hanna BENAZRA
Miryam BENAZRA



Aaron BENSIMON married "Nelly" Nahla TOLEDANO

Pinchas BENSIMON. 4 children
Esther BENSIMON. 1 child
Yaakov BENSIMON. 4 children
Rachel BENSIMON. 1 child
Abraham BENSIMON. 2 children
Annette BENSIMON.
Gueoula BENSIMON. 3 children
Laurette BENSIMON



Rahamim BENSIMON (b. December 1906 Meknes, d. 19 December 1999) married (9 July 1930) Mira BENZENO (d. 20 Aug. 1985). He was a supplier to the French Army until 1945, and then he had a clothing shop in Meknes. They moved to Israel in June 1965.

Raphael BENSIMON now lives in Netanya, Israel and is married to Laurette TOLEDANO. They have three sons:

Igal BENSIMON married Rivka COHEN. Children: Aviv BENSIMON, Stav BENSIMON, and Ofek BENSIMON
Ronen BENSIMON married Orit AVIRAM. Children: Chen BENSIMON, Oran BENSIMON, and Liat BENSIMON
Rami BENSIMON. Child: Natanel BENSIMON

Simone BENSIMON married Gilles WITTENBERG. They live in Ganei Tiqwa.

Talie WITTENBERG m. Alon OREN. Daughter: Noa OREN

Joseph (JoJo) BENSIMON now lives outside Paris, France and is married to Daniele.

David BENSIMON m. Stephanie. 5 children.
Michael BENSIMON m. Karen. 3 children.
Emanuel BENSIMON m. Nathalie. 4 children.

Gabriel BENSIMON gabyben@zahav.net.il married Nurit MAHDER (b. Switzerland, d. 5 Sep. 2000).

Daniel Meir BENSIMON m. Keren NOY. Children: Gur BENSIMON and Yuli Nourite BENSIMON
Uri BENSIMON
Ariel BENSIMON
Miryam Henriette (Mimi) BENSIMON

Odette BENSIMON, emigrated (1968) to US, now lives in Laguna Hills, California and is married to Abraham MATALON.
Elie BENSIMON now lives in Petach Tikva, Israel and was married to Ofra BENHAIM.

Neri Abrahama BENSIMON
Netah BENSIMON

Esther BENSIMON now lives in Haifa, Israel and is married to Avi AMZALLAG.

Eyal AMZALLAG
Edan AMZALLAG

Ruth BENSIMON now lives in New York City and was married to Thomas SCHEER.

Adam Louis Abraham SCHEER (married to Michal Spinat, graduated from Ramaz Upper School (HS, 1990) and Williams College (BA, 1994) currently working as VP, Finance at Streetmail.com, a start-up Internet company publishing local newletters sent via email). Thanks to Adam for information about this branch of the family. Daughters: Ilana Sarah SCHEER, Ariella Mira SCHEER.
Tania SCHEER

Abraham BENSIMON (d. nine months old)
Abraham BENSIMON (d. 9 July 1960 in a car accident when he was 11 1/2 years old)
Information on this page due to Gabriel BENSIMON gabyben@zahav.net.il and Adam SCHEER alscheer@yahoo.com
---
Daniel E. LOEB, eMail: publisher@pjvoice.com