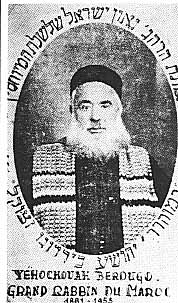 Rabbi Joshua ben Jacob BERDUGO (b. 1878 Meknes - d. 1953) of the Raphael BERDUGO Synagogue. He had a strong personality and on a number of occasions was in conflict with the leaders of the Church and with members of the French government, by whom he was respected. He was open to the modern world, and encouraged the reopening in 1911 of the Alliance school in Meknes despite the opposition of his colleagues. In 1913, he found the first Zionist organization in Meknes Hibat Sion. The communal rules and regulations adopted during this time were published in the pamphlets of "The Council of Moroccan Rabbis" (Casablanca). Named chief Rabbi of Meknes and dayan in 1904 with Rabbi Salomon ben Chettrit. Named vice president of Rabbinical Tribunal of Meknes in 1924. In 1928, he founded the first synagogue in the New Mellah (which was later named after him). Named president of Rabbinical Tribunal in 1932. In 1941, he succeeded Rabbi Yekoutiel Haim BERDUGO as president of high rabbinical court and Chief Rabbi of Morocco. He distinguished himself by his great openness of spirit and his firmity in confronting authorities. Retired in 1949 due to illness. His funeral in 1953 in Meknes was one of the largest in the history of the community.
None of his books were published.
Founded a synagogue (named after him) at the Nouveau Mellah (literally ghetto in Arabic). Another synagogue (the New Synagogue or Slat Jdida) was founded just afterwards by his detractors.
He had seven children
Elisha BERDUGO (d.)

Amram BERDUGO (d. June 1981) married Rena TEMSTET. Rena remarried Aaron SULTAN (d. Mar. 2009).

Madeleine BERDUGO (d.) married Raphael BOTBOL (d.)

Arman BOTBOL
Eric BOTBOL (3 children)
Judith BOTBOL

Jacqueline BERDUGO (d. 9 Sep. 2001) married Raphael GOZLAN (b. around 1945 Fez, d. Mar. 2009) son of Chalom GOZLAN (b. around 1922 Fez) and Rahma ASSOULINE (b. around 1925 Fez).

Marcel GOZLAN (b. around 1967 Meknes) married Isabelle ASSOULINE (b. around 1969 Meknes).

Raphael GOZLAN (b. ~1992 Meknes)
Ruben GOZLAN (b. ~1996 France) rubengozlan@gmail.com. Thanks to Ruben for information about this branch of the family tree.
Noam GOZLAN (b. ~2001 France)

They live in France.
Ramy GOZLAN (b. around 1969 Meknes) m. Armand BENSIMON (b. around 1967 Meknes).

Orna GOZLAN (b. ~1991 Meknes)
David Moshe GOZLAN (b. ~1993 Meknes)
Raphael GOZLAN (b. ~1996 Meknes)
Eythan GOZLAN (b. ~2002 France)
Liora GOZLAN (b. ~2007 France)

They live in France.
Rinna GOZLAN (b. around 1970 Meknes) m. (Paris) Moshe ELGRABLY (b. around 1960 Meknes).

David ELGRABLY (b. around August 2006 Paris)
Linoy ELGRABLY (b. around 2007 Paris)
Shaili ELGRABLY (b. around 2010 Paris)

Chalom GOZLAN (b. around 1972 Meknes) m. (Meknes) Yael SUISSA (b. around 1975 Meknes). They live in France

Raphael GOZLAN (b. ~1997 Meknes)
Shirel GOZLAN (b. ~2003 France)

David GOZLAN (b. around 1975 Meknes) m. (Israel) ??? (b. around 1978 Israel). They have 5 children (b. 2000-2010) and live in France.
Rina GOZLAN m. Moshe ELGRABLY.

David ELGRABLY (b. ~2006)
Linoy ELGRABLY (b. ~2007)
Shaili ELGRABLY (b. ~2010)

Emile (Haïm) BERDUGO married twice. Two children from each marriage.
Evelyne BERDUGO married (22 Aug. 1973) Jules LEVY

Emmanuel LEVY lmc2000 at noos.fr, aurene@free.fr married Nelly TOLEDANO the daughter of Flora TEBOUL and Josue TOLEDANO (the son of Marie and Maklouf TOLEDANO).

Eden LEVY
Lea LEVY
Jeremy Abraham LEVY

Thanks to Emmanuel for information on this branch of the family tree.
Karen LEVY married (2002) Mikael SION.

Samuel SION
Ruben Abraham SION
Shira SION

Myriam LEVY married (2007) Ludovic ZOUARI .

Ilana ZOUARI
Yaniv Abraham ZOUARI

Josette BERDUGO (not married)
Yehoshua BERDUGO married Ruth AMAR.

Armand BERDUGO
Guila BERDUGO
Mordehai BERDUGO



Jacob BERDUGO married 3 times (Suzanne, Yamna and Zohar). He lived in Casablanca. Jacob was murdered 1995 during a robbery. Suzanne and Jacob had two sons:

Elisha BERDUGO
David BERDUGO



Raphael BERDUGO (formerly Meknes, now Bnei Brak) married Rachel AZZERAD. 13 children. Raphael is the family mohel. He has a little book where he handwrote every boy's birthdate and brit milah date. Contact: grandson Sammy BENARROSCH

Yehuda BERDUGO studied at the Wellington Street Manchester Yeshiva
David BERDUGO
Elishama BERDUGO (d.). Was mashgiach at Wellington Street, Machester Yeshiva
Meir BERDUGO
Yehoshua BERDUGO
Yikoutiel BERDUGO
7 daughters



Esther BERDUGO married Albert EDERY

Samuel EDERY married Perla of Tanger
Meir (Meyer) EDERY. Wrote book in Hebrew on family history.
Yeoshua EDERY
Mordechai (Mardoché) EDRY, cantor of synagogue on Staten Island

Sandy EDRY, sedry at aol.com, freelance journalist often writes for Newsweek or the New York Daily News. Also spent a year as a writer for the Who Wants to be a Millionaire game show. Sandy married Sharon GOLDMAN, freelance journalist, recently work for TV Guide. They live in Manhattan.

Yael EDERY
Simy EDERY
Rachel EDERY
Clothilde EDERY
Mathilde EDERY



Hassiba BERDUGO married Chalom TOLEDANO. No children

Messouda BERDUGO married David TOLEDANO (d.) son of Baruck TOLEDANO and Hanna BOTBOL.

Samy TOLEDANO
Mathilde TOLEDANO (d. 2008)
Eliane TOLEDANO married David MERGUI son of Joseph MERGUI.

Pinhas MERGUI. Children: Maya MERGUI and Noa MERGUI.
Gad MERGUI. Children: Ori MERGUI and Dean MERGUI.
Golan MERGUI
Shy MERGUI
Avi MERGUI

Aimé TOLEDANO
Joshua (Joe) TOLEDANO-BERDUGO

James (Chaim Mordechi) TOLEDANO jamestoledano@gmail.com. Thanks to James for information on this branch of the family tree.
Tzofia TOLEDANO m. (summer 2005) Melech David KANTER. Daughters: Bracha D'vora KANTER and Esther Miryam KATNER

Rachel TOLEDANO
Ruth TOLEDANO married Joe TOLEDANO (no relation). Children: Baruch TOLEDANO, Dorit TOLEDANO and Meirav TOLEDANO
Eva TOLEDANO m. Eli YAFFA. Children: Maya YAFFA, Tomer YAFFA and Neve YAFFA.
Michael TOLEDANO m. Tali ???. Two daughters
Elian TOLEDANO
---

Daniel E. LOEB, eMail: publisher@pjvoice.com