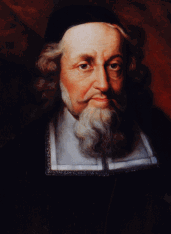 Samuel OPPENHEIMER (b. 21 Jun 1630, d. 03 May 1703 Wien). His first wife died 11 March 1673. Samuel was Kaiserlicher Oberhoffactor, the most renowned and honored of the OPPENHEIM's. A brief sketch of his life and likeness may be found in the Encyclopedia Judaica 22 Volume Set
, page 419. He was also called Samuel Heidelberg.
He remarried Sandela Sentille CARCASSONE, a daughter of Manoach CARCASSONE, from Mannheim, widow of Moses Abraham ASTROQUE (or ASTRUCK, or AMSTRUCK) (d. 1668) (Carcassone is a city in the south of France. Later the Family CARCASSONE migrated to Bohemia). Moses and Sandela are ancestors of Ralph BAER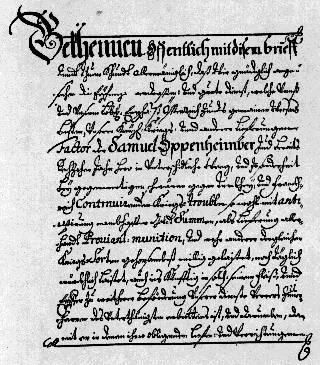 For more details see The Court Jew: A Contribution to the History of Absolutism in Europe by Selma STERN (pages 15 and following) and The Jews of Vienna by Max GRUNWALD, Vienna, 1936 (pages 113-124).
Daniel Moses OPPENHEIMER (b. around 1656, d. 1675 or 1677 Worms)

Jehuda Loeb OPPENHEIMER (d. 4 Mar 1732 Pressburg) married Simelie LEFFMANN (BEHRENS?) (d 19 Dec 1739 Pressburg), the daughter of Jacob LEFFMANN BEHRENS COHEN (d. 1697 Leipzig) and of Suesse GOMPERZ. Simelie LEFFMANN was the sister of Fradel LEFFMAN-Lipman.

Samuel (Sanwil) OPPENHEIMER (d. 1748 Pressburg)

Koppel OPPENHEIMER (d. 1784 Pressburg)

Lasl OPPENHEIMER (d. 1792 or 1804 Pressburg)

Salomo OPPENHEIMER (d 4 Jul 1832 Vienna)

Sabl OPPENHEIMER (d. Dec 1827 Vienna)

Leah OPPENHEIMER (d. 1804) married ??? sons: Simon ??? (d. 1852 Bratislavia) and Salomon ??? (d. 4 July 1832)
Loeb OPPENHEIMER (b.~1758, d. before 1783) married Roesel ??
Chajjim OPPENHEIMER (b.~1781) married the daughter of Jacob RAAB. son: Daniel (David) Wolf OPPENHEIMER (1793-29 Apr 1835 Vienna)
Esterl OPPENHEIMER married David be KOPPEL THEBEN. Children: Mendel THEBEN, Jechiel THEBEN, Chajjim THEBEN, Sanwell (Samuel) THEBEN, Traule THEBEN, Chana THEBEN
Chaja OPPENHEIMER married Mordechai Marcus SCHLESINGER (in question mark!!!)

Jente Opennheimer (d. 25 Nov 1707 Vienna)
Blumele OPPENHEIMER (d. 17 Jan 1711 Vienna)
Edel OPPENHEIMER (d, 21 Oct 1718 Vienna)
Lea OPPENHEIMER (1698-2 Apr 1763 Vienna) married Lema Pressburg Ha-LEVI LEHMANN (b. 1690, d. 25 April 1763 Pressburg) the son of Herz Naftali LEHMANN.
Lea and Lema had two sons: Lazarus LEHMANN (1715-17 Jun 1780) and Jacob LEHMANN

Wolf Moses OPPENHEIMER (d. Jan 1724 Pressburg) also called ENGEL married Bella ?? (b. 1680) (second wife??)

Moses Wolf OPPENHEIMER (d. 16 June 1738 Hanover)

Wolf Engil OPPENHEIMER (1739-7 Oct 1822) son: Moses OPPENHEIMER
David Loeb OPPENHEIMER (b. May 1745)
Simon OPPENHEIMER (1782-1802) married ...remarried Chaila ??, daughter of Mandl ??.

Roesel OPPENHEIMER married Jacob LWOW
Mirjam OPPENHEIMER married David THEBEN
Chana OPPENHEIMER
Mendel OPPENHEIMER

Katharina Kela OPPENHEIMER married (2 Feb 1819) Moses MANHEIM ben Simon
Leonora OPPENHEIMER (?)

Leonora OPPENHEIMER
.... OPPENHEIMER married Meir EISENSTADT. To be verified. Daughter: Pessel EISENSTADT

Leah OPPENHEIMER (d. 1718 Worms) married Jacob MANNHEIMER (d. 1720 Worms) son of Salomo

Salomon MANHEIMER (d. 1723 Worms). Son: Moshe MANHEIMER
Abraham MANHEIMER (d. 1740 Worms)



Nathan OPPENHEIMER (d. 1730)

Mendel Menachem Emanuel OPPENHEIMER (b. 1657, d. 13 Sep 1721 Vienna) married Judith Juta Tamar GOMPERZ (1671-18 Apr 1738 Vienna) daughter of Salman Emerich GOMPERZ = Moses Salomon Emmeich

Fradel Veronika OPPENHEIMER (1698-30 Jun 1733 Vienna) married Hirz Herz Naftali DARMSTADT Manasses ben Loeb (1687-2 Sep 1774).
They had 15 children:

Loeb DARMSTADT (b. 1719, d. 27 May 1721 Vienna)
Itzchak (Isak Itzig) DARMSTADT (d. in infancy 29 Aug 1725 Vienna)
Wolf Hirz DARMSTADT (b. twin, d. in infancy 10 Feb 1727 Vienna)
Beer DARMSTADT (b. twin, d. in infancy 26 Feb 1727 Vienna)
Samuel DARMSTADT (b. 1723, d. around 1752) married Merle GOLDSCHMIDT.
Salomon DARMSTADT (b. 1729)
Sprinz DARMSTADT (1729-30 Nov 1730 Vienna)
Rebekka Chaja Lea DARMSTADT (1731-6 Jun 1749 Vienna)
Roesl DARMSTADT (b. 1737)
Juta Miriam DARMSTADT (b. 1738, d. 16 Sep 1739 Vienna)
Sara DARMSTADT (d. in infancy 26 September 1739)
Mirjam DARMSTADT married Moses LOEW
Perez DARMSTADT (1744-2 Feb 1745 Vienna)
Jacob Menachem DARMSTADT (d. 7 Dec 1745 Vienna)
Frumet DARMSTADT (1747-28 Dec 1749 Vienna)

Wolf Simon (Heidelberg) OPPENHEIMER (1700-9 Aug 1730 Vienna) married Rebekka Schifra REINGANUN (d. 31 Mar 1737)

Mendel Emanuel OPPENHEIMER (1719-12 Feb 1725 Vienna)
Mayer Meir OPPENHEIMER (1721-19 Feb 1760 Nikelsburg)
Mayses Moses OPPENHEIMER (b. 1725) married Telzche (Jelzelche) ha-COHEN (d. 23 Dec 1773 F.F.M.) daughter of Phoebus ??. They had a son: Mendelche COHEN. OPPENHEIMER (d. 29 Mar 1817 F.F.M.)
Salomon OPPENHEIMER (b. 1728 or 1729)

Elias OPPENHEIMER (d. 1746?) married Sorle DRACH?, or else Eva COHEN (d. 1783) the daughter of Beer BEREND COHEN from Hamburg.
Samuel Emanuel OPPENHEIMER (1707-4 Feb 1747 Vienna) married Chaja Sara ARNSTEINER (1712-2 Jan 1780 Vienna) daughter of Ahron Isak

Rabbi Emanuel Mendel OPPENHEIMER (b. 1726 died before 1780) children: Juta (1761-30 May 1763), Samuel Emanuel (1779-28 Oct 1785)
Nathan OPPENHEIMER (1728-27 Nov 1730 Vienna)
Veronika OPPENHEIMER (1732-13 Nov 1813 Vienna) married Alexander Sendor Oestereicher (d. 2 Apr 1770). Children: Markus Oestereicher (1764-5 Dec 1772), Samuel Oestereicher (d. 1836), Isak Oestereicher.
Veronika remarried Lebl Joske.
Adam Anschel OPPENHEIMER (1733-9 May 1790 Leopoldstadt), KK Purveyer and Artillery Enterpreneur married Johanna
Hendl OPPENHEIMER (1736-11 Mar 1738 Vienna)
Abraham OPPENHEIMER (1740-27 Oct 1753 Vienna)
Josef OPPENHEIMER (1742-23 Mar 1792 Leopoldstadt)
Isak OPPENHEIMER (1746-21 Apr 1817) married (1793) Minna Wilhemine OPPENHEIMER (b. 1776) the daughter of Emanuel OPPENHEIMER.

Josef OPPENHEIMER (3 May 1801-8 Jun 1860)
Charlotte OPPENHEIMER married (18 Jun 1826) Albert STRAUSS (d. 2 Feb 1875 Leopoldstadt)
Betty OPPENHEIMER married (1832) Emanuel FELDSCHAREK.

Beer Emanuel OPPENHEIMER (1709-21 Jun 1753) married Mirjam? GOMPERZ daughter of Benedikt GOMPERZ
Abraham OPPENHEIMER (b. 1716)



(2nd son) Simon Wolf OPPENHEIMER (b. Vienna, d. 10 Nov 1726 Hanover) moved to Hanover and erected a banking house there. married Fradel BERHRENS LEFFMAN-LIPMAN (d. 2 May 1717) grand-daughter of LEFFMAN BEHRENS COHEN in Hannover, and sister of Simelie LEFFMANN.
Simon remarried Ella ANSBACH. According to Joseph Mor from Israel, Simon remarried Rivka Sifra Reinganum (d. 1737)

Jacob OPPENHEIMER (d. 6 Jul 1760 Hanover) banker in Hanover married ???. Jacob remarried his relative Edel OPPENHEIMER (d. 14 April 1783) the daughter of Isak in Vienna, the step-son of Samson WERTHEIMER, who was the nephew and partner of Samuel OPPENHEIM.

Wolf Jacob OPPENHEIM, banker in Hanover, died April 12, 1797 (Meyer Amschel ROTHSCHILD served several years in his banking house from 1765 on). First wife: Mirel BEHRENS (d. 26 Nov. 1771).
Second wife: Remarried (after 1771) Gutrad (Jachet) HERTZ or HERZ (b. 26 Sep. 1811 Hamburg, d. 28 September 1811). She came from a very distinguished family.

Hertz Wolf (Fritz) OPPENHEIM (b. 1788 Hanover, d. 7 June 1853 Charleston) immigrated to Charleston South Carolina. He was an American Citizen from 1829. [other documents show that he was made a citizen on Dec. 19, 1828]. He married Catherine MOSES (b. 21 October 1802, Charleston, SC, d. 25 December 1890 Augusta, GA) (daughter of Rebecca and Joseph MOSES of Charleston.
other children and descendants to be entered

Sorchen OPPENHEIMER (d. 27 April 1773) m. Moses DETMOLD.

son OPPENHEIMER married FRANKEL
Sara Wolf OPPENHEIMER m. Elias Levy GUMPERZ

son GUMPERZ married OPPENHEIMER. Son: Moses Levin GUMPERZ
Belia Elias GUMPERZ married Izak Barend SALOMONS (Cohen KAMPEN) son of Beer Leizer SALOMONS and Gitle David JOSEPH (Azkenaz Reinbach).
Vrouwtje GUMPERZ married Samuel SALOMON.



Lea OPPENHEIMER (d. 26 Apr 1705) married Mendel Emanuel DRACH (Trach) (d. 15 Oct 1744 F.F.M.)

Edel DRACH (b. 1700, d. 24 Oct 1744 Vienna) married Mordechai Markus Marx ha-LEVI LEHMANN (1688-10 May 1788) Children: Jakob Jehuda (1721-5 Sep 1741 Vienna), Fogel (d. 25.Oct 1732 Vienna), Bella (d. 7 Feb 1733 Vienna), Sara (1730-4 Dec 1735), Hainl (1742-13 May 1746), Schendel (1744-9 May 1769 Vienna), Moerl Mirl (1744- 17 Dec 1781 Vienna).
(Perhaps this entry is for the same person as the preceeding entry and they should be combined.) Edel or Hanna DRACH (d. 1718) was the second wife of Simon Michael PRESSBURG (d. 1719) formerly married to Hanna Menzels. See Lawrence D. WEINBERG devoutbokononist@gmail.com for information.
Sanwel DRACH married his cousin (the daughter of his father's sister) Rosa POLLAK (26 Mar 1769 Vienna)
KOPPEL Elias DRACH (b. 1735, d. 6 Dec 1786 Vienna) married Michele ... from Foerst.
Warning: KOPPEL may not be correctly placed in the tree. He is either the son of Mendel Emanuel DRACH second wife Juetche Gans or a grand son of Mendel from a son named Elias which I can not tell is the right answer.. KOPPEL was born after Lea's death.

Elias DRACH married Mariana Menzels (1763-11 May 1808)

Rosina Rebekka DRACH married (1799) Wolf HERZFELD
Jeanette DRACH (1789-27 Nov 1826) married (1810) Moses Sidwers (b. 1768).
Children: Maria Judith (b. 1812), Wilhelmina Sofia (b. 1814), Eduard (b. 1817), Louise Giza (b. 1818), Jacob (b. 1821), Jsaias Josef (b. 1822), Henriette (b. 1825)
.... DRACH married Elia Ofenbach



Frumet OPPENHEIMER (d. 1713 Frankfurt) married Josef GUGGENHEIM (b. ca. 1660 Lengnau, d. 1735 Frankfurt).

Mirjam Sara GUGGENHEIM (1694-15 Dec 1739 Vienna) married Loeb Jehuda Efraim ha-LEVI Sinzheim (d. 4 Jun 1744 Vienna).
Abraham GUGGENHEIM
(Simon) Wolf GUGGENHEIM (b. ca. 1685, d. 1738 Obernai, Alsace, France) married Treitel WEILL from Obernai, Alsace, France.



Abraham OPPENHEIMER (d. 1753)

Schoendele OPPENHEIMER m. Lob DEUTZ "zur Arche" (d. 1711?)

Jocheved DEUTZ (d. 1716) married Schoene Aron RIES (d. 27 or 29 Mar. 1751 Berlin).
Sara DEUTZ (b. 1677) married Salomon GUMPERZ (b. Cleves, d. 6 Dec. 1751 Berlin) son of Loeb GUMPERZ (d. 1673 Hamelin, d. 1700).
There are some more children listed under Samuel OPPENHEIMER according to Joseph MOR, and they might be Sandela Sentille CARCASSONE's children from her first marriage.
daughter married Jacob MANHEIMER
Veronika Frumet married Herz Leib MANASSES (d. 1748)
Menachem
Benjamin
Helen Fridel married Natan OPPENHEIMER
Information on this page thanks to Susan WOOD.
---
---
Daniel E. LOEB, eMail: publisher@pjvoice.com