FLORSHEIM family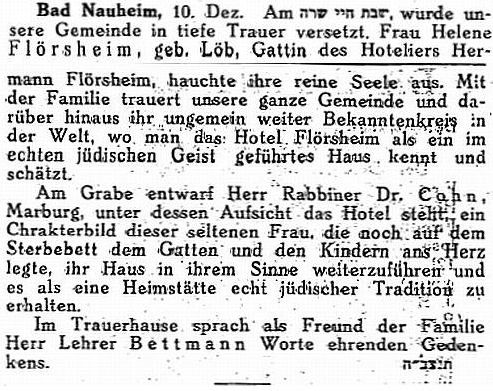 Amalie LOEWENTHAL and Hanselm FLORSHEIM married Helene LOEB. (See Herman's birth certificate.)
Obituary of Helene LOEB (on right): Bad Nauheim, 10th of Dec. On the Sabbath corresponding to the Torah portion Chayeh Sarah (the life of Sarah), our community was set into deep grief. Mrs. Helene FLÖRSHEIM, born LÖB, wife of the hotelier Hermann FLÖRSHEIM, exhaled her pure soul. With the family, our whole community is mourning and beyond that her tremendous wide circle of acquaintances in the world, where the Hotel Flörsheim is known and appreciated as a house that is led in a real Jewish spirit.
At the grave, Mr. Rabbi Dr. Cohn, Marburg, under whose supervision the hotel is standing, drew a picture of the character of this rare woman, who even on the deathbed laid at the heart of her husband and the children to continue their house in their meaning and to keep it as a homestead of real Jewish tradition.
In the mourning house, Mr. Teacher Bettmann as a friend of the family, spoke words of honorable remembrance.
May her soul be bound up in the bond of life.
Minnie FLORSHEIM married Alfred STERN from Heilbronn, Am-Neckar. She perished in the Holocaust. Alfred was arrested by the British, sent to the Isle of Man, then to Australia. See his book The Dunera Scandal published in Australia.

Amanda (Miriam) FLORSHEIM (b. February 17, 1893, d. November 11, 1957) married Gustav OPPENHEIMER.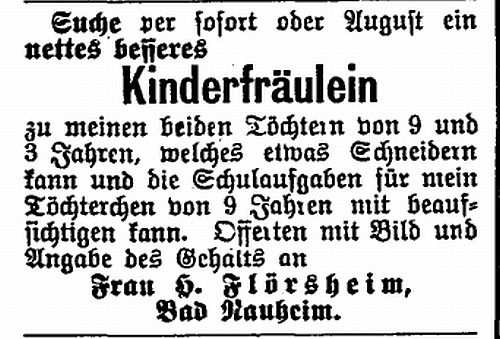 Here is an advertisement which Helene placed to find a nanny for her two daughters.
Translation of Advertisement: Looking for - immediately or in August - a nice well-bred Nanny for both of my daughters ages 9 and 3 years, who can sew a little bit and will mind for the homework of my daughter of 9 years. Offers with picture and salary request to Mrs. H. FLORSHEIM, Bad Nauheim.
Other FLORSHEIMs
Bowen FLORSHEIM

Bruce FLORSHEIM

Chaim FLORSHEIM (b. about 1700 Furth)

Sussmann Eliezer FLÖRSHEIM (1745, Fürth - 1835, Obergleen) & married Chaiele Keile Caroline LIENEBURG (circa 1759, Fürth - circa 1836, Obergleen) Sussman was a teacher in Obergleen, which is very close to Romrod. It is possible that being hired as a teacher is what brought him to that area.

Michael Yechiel FLÖRSHEIM (circa 1792, Romrod - 19 March 1875, Romrod) married Hendel GEISS (circa 1795, Rhina - 11 July 1868, Romrod)

Feibel Chaim FLORSHEIM

Sussman FLORSHEIM
Elise FLORSHEIM
Moses FLORSHEIM married Elise/Elisabeth BAER sister of Louis BAER

Julius FLORSHEIM came from Hamburg married Lydia Gutzeit AGATHA.

Richard Otto FLORSHEIM m. Alice M. PALM

Jeanette FLORSHEIM m. Louis BAER brother of Elise BAER

Emilie BAER m. Siegfried BAUM

Johanna BAUM m. Albert KLEINSTRAUSS.

Paul Louis KESTER m. Susanne Jeanette LUFT. Son: Daniel KESTER Thanks to Daniel and his website for information on this branch of the family.
Helen (Lena) KLEINSTRASS

Else BAER m. Siegfried STAMM
Arthur Michael BAER
Victoria BAER
Friedrich Wilhelm (Fritz) BAER

Moses Loeb FLÖRSHEIM (1788 - 1 November 1862) married Rosalia HAMBURGER
Isaak FLÖRSHEIM (1797 - 1876, Chicago) married Friederika STIELER (1810 - 1856) Isaak FLÖRSHEIM and his family came to the U.S. in 1859. German names were switched to American names: August became Gus, Heinemann became Henry, and Fiebel became Philip.

Sussmann FLÖRSHEIM (16 March 1833 - 16 March 1833)
Sussmann Siegmund (Sigmund) FLORSHEIM (6 February 1834 - 1894) married Henrietta NUSSBAUM

Milton FLORSHEIM (27 July 1871, Illinois - 22 December 1936) married Gertrude STERN (26 July 1873 - 16 November 1957) Milton FLORSHEIM founded the FLORSHEIM Shoe Company in 1892 in Chicago.

Irving FLORSHEIM* (27 October 1893 - 18 October 1959) married Lillian HYMAN (b. 17 May 1896, New Orleans, d. 30 December 1988, Chicago). Irving ran the shoe company after the death of Milton. Lillian was a noted sculptress.

Mary Elizabeth FLORSHEIM (b. 1920 Chicago, d. 5 Feb. 2010 obituary) married Robert SCHWAB, Robert PICKING, the actor Allan JONES and Robert BRADLEY (d.). Allan JONES was a singer and actor. He played in Show Boat and as straight man to the MARX Brothers in A Night at the Opera and A Day at the Races. Mary's best-known horse, Cougar II, was the winner of the Eclipse Award in 1972 and the Santa Anita Handicap in 1973 and was inducted into the National Thoroughbred Racing Hall of Fame in 2006. Mike SEKULIC wrote Remembering the Cougar in recognition of the 40th anniversary of Cougar II's controversial disqualification following a five-length victory in the Woodward Stakes, Oct. 2, 1971.

Ellen JONES married HUNT.

Nancy FLORSHEIM (about 1922 - November 12, 1996) married Bertrand "Bud" GOLDBERG (1913, Chicago - October 8, 1997). Nancy owned and managed the restaurant, Maxim's de Paris in Chicago. Bertrand was an architect. A student of Mies VAN DER ROHE, he designed Chicago's Marina City Towers.

Irving remarried Helen FORD.
Harold FLORSHEIM (20 June 1899 - 1 February 1987) married Claire BLOCK (18 April 1903 - 30 September 1991) After the death of his brother, Irving, Harold ran the shoe company. Claire BLOCK, known as Claire ZEISLER after her second marriage, was an artist who, according to the New York Times, "helped transform the two-dimensional craft of weaving into the three-dimensional medium called fiber art". The family sold the shoe company in 1952. In 2002 Harold and Claire's son Thomas FLORSHEIM and his sons, Thomas, Jr., and John, reacquired ownership. The sons are now running the company.

Felix FLORSHEIM (b. about 1871, d. 18 Apr. 1933 Chicago)
Florence FLORSHEIM (b. about 1870, d. 1945) m. Alexander BYFIEDL
Louis FLORSHEIM (18 March 1874, Chicago - 14 October 1955, Chicago) married Lillian WESTHEIMER (2 December 1882, St. Joseph, MO - )
Cora FLORSHEIM (about 1877 - 14 February 1959)

Wolf FLORSHEIM (b. 4 July 1835)
Simon "Grump" FLORSHEIM (28 May 1837 - 17 December 1917) married Elizabeth FREISLEBEN (26 December 1845, Upstate New York - ) Came to America at the age of 17. Set out to walk from New York to Chicago, doing odd jobs along the way. By Ohio, had earned enough money to buy a train ticket for the rest of the way. His son Leonard FLORSHEIM's son Richard FLORSHEIM was an expressionist painter. His paintings are in the collections of many major art galleries.



Julius FLORSHEIM married Paula ??, from ROTENBERG and then Leipzig during WW2. Died Auschwitz. Family may be related to FLORSHEIM shoes.

Hans (Chanan) FLORSHEIM, survived Holocaust, kindertransport child, wend to Holland and then Tel Aviv
Editha Anne FLORSHEIM (b. 1925), survived Holocaust, kindertransport child, went to London. Contact: granddaughter Nicole HOWARD, Los Angeles.



Henry FLORSHEIM of Shreveport, Louisiana. Henry had five sons -- Sigmund FLORSHEIM , Albert FLORSHEIM , Norbert FLORSHEIM, Seymour FLORSHEIM, and Adolph FLORSHEIM. Seymour FLORSHEIM Sr. married Eva JACOBSON (Czech descent). Henry's parents were from Bavaria, according to headstones in Hebrew Cemetery in Shreveport. Contact: Robert M. FLORSHEIM grumpy429 at aol.com. Son of Seymour Louis FLORSHEIM Jr. who was son of Seymour Louis FLORSHEIM Sr., Son of Henry FLORSHEIM

Renee FLORSHEIM, RFLORSHE at lmumail.lmu.edu

---



Others collecting information on FLORSHEIM:

Barry SILVER, 1416 Rock Glen Ave., Glendale, Ca 91205
Eva FLORSHEIM, Lower Galilee, Il-15240 Shadmot Dvorah, Israel
Sign or view my Guestbook

Daniel E. LOEB, eMail: publisher@pjvoice.com